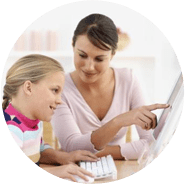 Enhance Your Child's Potential with Progressive Home Tutors
Some children often encounter challenges in certain subjects, making it hard for them to cope with schoolwork or participate in classroom discussions. When this happens, Progressive Home Tutors can provide the guidance and support to keep young minds engaged in their studies. We offer private home tutoring in Perth and nearby areas to help children become successful, independent learners.
Qualified Teachers for Your Child's Education
We strive to provide the best learning experience to students, to help them excel in schoolwork and enhance their potential in different subjects. Our company has a network of qualified Perth tutors offering private lessons for early childhood, primary year, and secondary grade levels. Our teachers are specially trained to address the individual educational needs of students, while giving young ones the inspiration and motivation to explore the wonders of learning.
One-on-One Learning at Its Best
At Progressive Home Tutors, we make an effort to assess the strengths and weaknesses of students, to determine the best approach for their private lessons. After a careful evaluation, our teachers will develop the appropriate program for effective one-on-one tutoring for Perth students. Through this, we will help them gain a better understanding of class material, prepare for exams, or boost their grade average.
Fun Learning Experience
Progressive Home Tutors combines fun and knowledge to provide an enjoyable learning experience for students. We make lessons more dynamic and interactive to establish rapport with students and help them develop a positive attitude towards learning.
Contact us and find out what makes our home tutor in Perth different from other teachers.